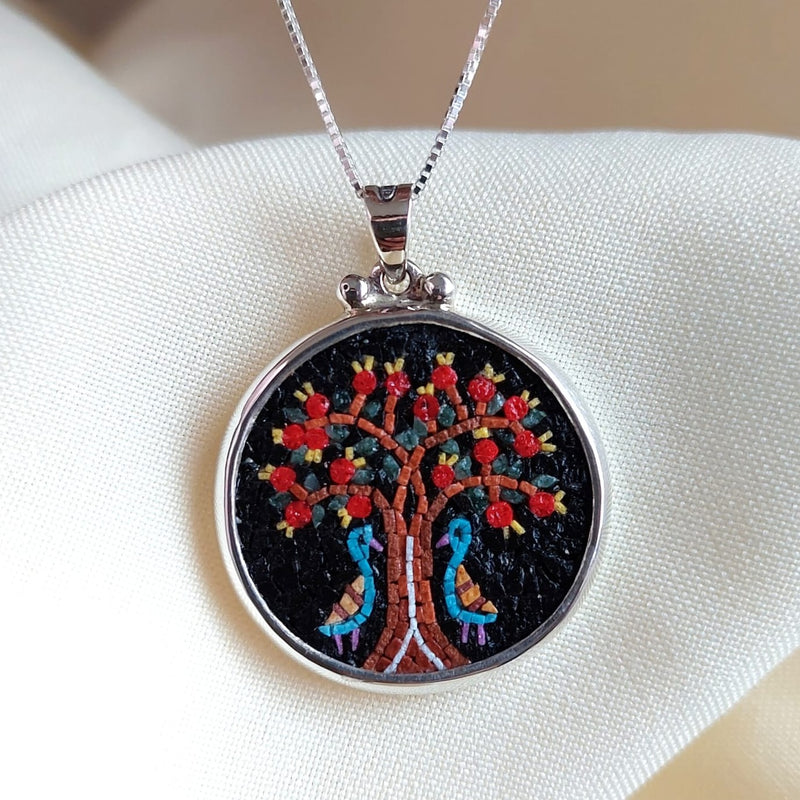 Galassia Micro Mosaics
Large Pomegranate Tree Micro Mosaic Necklace | Hand Crafted Silver Jewelry from Bethlehem
Micro mosaic jewelry allow you to wear a piece of Palestinian art around your neck. This stunningly crafted Deep Roots in Palestine is made from tiny stones by exceptionally skilled artisans in Bethlehem.
Learn more about the makers on our blog here.
Materials: Silver 925 and natural stones

Did you know we donate our profits to plant trees in Palestine? Thank you for your support!

***IMPORTANT MESSAGE*** 
What if I want to ship to a U.S. address?
You're in luck, our products are actually stored in Oregon, so you're only paying for U.S. domestic shipping. Processing takes a 1-3 business days on our side before our volunteer in Oregon gets your package to the post office.
Domestic shipping takes 2-8 days depending on your shipping destination. Once orders ship, we'll email you a confirmation with tracking (for domestic) or customs (for international) numbers.
It is your responsibility to track and, if necessary, follow up with the shipping carrier to get your package.
How much does it cost?
Shipping rates are automatically calculated at checkout based on product weight.
Sometimes your package might incur extra costs with Customs in your country depending on the value and type of items. Please note that we have nothing to do with these costs, and it depends on your country's customs.
*** Important note for EU orders ***
"The European Union is implementing new customs rules for online purchases from outside the EU. Did you make a purchase in a British, Chinese, American or another non-European webshop? You will pay VAT and import costs on all shipments that are delivered in Belgium (or any EU country) from 1 July, also on shipments of 22 euros or less."
Where else do we ship?
We ship via USPS and UPS. Shipping is available to most countries, let us know if your country is not included and we will add it!
Additionally, we offer international shipping* options from Palestine, in case you are interested in a handicraft that isn't available in our online collection or if you'd like to place a custom orders.
What happens if I put the wrong shipping address or don't my package out of customs?
No problem! Once your item is sent back to us, we'll send it back out. We only ask you to cover shipping cost.
What are the shipping options from Palestine?
Registered Post takes from 10-20 days. Price will be calculated at check out based on weight. Registered post can only be tracked until it leaves the post facility in Occupied Palestine.
Eco-Post takes up to 10 days. Price will be calculated at check out based on weight. This option allows for tracking package until arrival at destination.
EMS (for any orders greater than 2 kilos) takes from up to 10 days. Price will be calculated at check out based on weight.
I got an email notifying me that my package was delivered but I don't have it.
Please check with the carrier, ask your neighbors, check around your mailbox. Our inquiries have almost never helped us help you. Usually customers find it themselves. A last resort is getting the carrier to check GPS of where the carrier dropped the package.
I paid for international shipping and UPS hasn't delivered or is sending the package back to you.
Once we ship the package, it's completely out of our hands. You should check in on the carrier's website using the tracking or customs number we provided you. It is completely your responsibility to retrieve your package. If it's undeliverable, we can try to ship again or refund you only after it has been returned to us. The cost of additional shipping is your responsibility. Or in the case of a refund, we will refund the cost of the order, less the shipping.
Why did I pay more than the amount on the shipping label?
Please know that there are other costs before we get to your shipping. When you receive your package, you'll notice that the shipping cost on the box is not always the same as what you paid but the difference is minimal, and often we pay more for the shipping than you were billed. Thank you for your order, your patience, and your support!
*some countries are excluded from Palestinian shipping options.
Here are some of our frequently asked questions:
How fast do you ship? 
We take 2-3 business days to get your order processed. Once it's with the shipping carrier, orders inside the U.S. take from 2-8 days, depending on selected shipping method (which you choose after the checkout page, along with the shipping cost). We ship via USPS.
We also ship international orders, which take 14-21 days to arrive. Please note that additional customs cost might apply when your order arrives to your country, and it is your responsibility to cover any extra costs from Customs. 
How is shipping cost determined?
Based on the weight of your total order and the distance from our inventory which is in Portland, Oregon. 
For international orders, shipping cost is usually $14-$24 for the USPS First Class Package, which is only available to Canada. The cost varies depending on the weight as well. You can see more options below.
Why do you ship from the US?

We face a LOT of challenges as a small business under occupation in Palestine. One of those is shipping. So we've found that it's more reasonable for you financially and more secure, if we ship everything in bulk to a volunteer in the States who fulfills orders there.
       4. How do I return my order? 

Read more about this in the Refund Policy Page.
      5. How do I apply a promo code?
If you have a promo code you can apply it in the checkout page. 
6. Will you restock handicrafts that are currently out of stock?
We currently fulfill your orders from the U.S. We work on restocking handicrafts every 3 months. So please bear with us. And if there's an item that you are very interested in, you can now fill your email address on the page of that handicraft and you will receive an email once it's back in stock.
7. Do you offer wholesale?
Yes and thanks for asking. We want to get the work of our partner artisans to as many retailers out there as possible. This is our idea of creating a sustainable economy for the families who come from communities that are marginalized by the occupation or by severe economic circumstances, and mostly due to having the mother of family, being the sole provider. To inquire about wholesale order, please send us an email to hello@handmadepalestine.com 
    8. What payment methods do you accept?
In addition to accepting Paypal. We use stripe as a payment gateway which accepts all major debit and credit cards from customers in every country including: 
Mastercard.

Maestro.

American Express.

Discover.

JCB.

Diners Club.

China UnionPay.
 

Do you ship internationally?
Yes we currently ship to 47 countries in North America, South America, Europe, North Africa and Asia. In case shipping to your country isn't available, please notify us and we'll try to add it to our list if our shipping service reaches there.
Join us as seller